If All Mirror Not Working Please Report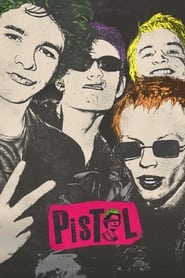 Pistol Season 1 Episode 6
Malcolm decides that the Sex Pistols have become too much like a rock band, so he must blow them up. Johnny leaves the band, and a Sid becomes lead singer. Nancy is found murdered in New York City, and Sid is the main suspect.
Serie: Pistol
Director: Danny Boyle
Guest Star: Alexander Arnold, Andrew May-Gohrey, Autumn Spence, Catriona Chandler, Charlie Price, Chi Lewis Parry, Christopher Brand, Daniel May-Gohrey, Francesca Mills, Frank Hughes, Hannan Ahmed, Joff Oddie, Jon Donahue, Leo Elso, Lorne MacFadyen, Marcus Wain Jones, Marvin Campbell, Noah Young, Olivia Emden, Otis Hughes, Rory Alexander, Sade Malone, Sethius Rodgers, Stephen Mitchell, Theo Ellis, Toby Sedgwick, Tom Forbes
Episode Title: Track 6: Who Killed Bambi?
Air Date: 2022-05-31
Year: 2022